We have a HUGE lineup of awesome judges for the Query Kombat tournament this year. Our goal was to bring you the most diverse group of opinions, talents, and specialties. Needless to say, I think we succeeded.
Of course, I have to give out my free pass into Query Kombat!!
For those that don't know, I had a mini-contest where people answered "Why do we need diverse books?" and the best 25-words-or-less response I got would get the free pass. Just read all the comments on the post and tell me that I didn't have a hard time deciding. Because I did. And it all came down to subjectivity so don't even try coming up with a reason as to why you didn't get the free pass!
But before that, the judges:
Query Kombat would not be possible without the wonderful people who donate their time to help others. In this month-long contest, we have managed to gather nearly thirty industry professionals to judge and critique entries. Each and every one of these judges are participating out of the kindness of their hearts, so please join the QK Crew in thanking them for volunteering.
THANK YOU!

Now, without further ado, we'd like to introduce the judges for Query Kombat 2014.\
Angie Sandro
writes NA/YA/MG. Her debut New Adult Southern Gothic, DARK PARADISE, releases July 1, 2014, from Grand Central Forever Yours. She is represented by Kathleen Rushall, of Marsal Lyon Literary, LLC.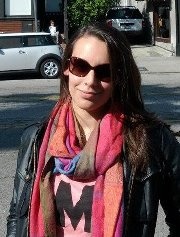 Lauren Spieller
is a graduate of University of Illinois and University of Notre Dame. She writes Young Adult and Middle Grade
novels
, as well as
short stories
for adults. When she's not writing, Lauren interns for a literary agent.
She also offers query, pitch, manuscript, and synopsis critiques. Click
here
to see her services.
L. L. McKinney is a freelance writer, a published poet, and board member of the Oklahoma Writers Federation, Inc. Her first love is fantasy, particularly urban fantasy. While she enjoys imagining the impossible happening right here at home, strong writing and a distinct voice will always win her over, no matter the genre. She's participated in dozens of contests over the years as an entrant, slush reader, and host. She lives the single life in Kansas, surrounded by more nieces and nephews than she knows what to do with.
Amanda Heger
is a writer, attorney, and bookworm. She lives in St. Louis with three unruly rescue dogs and a husband who encourages her delusions of grandeur. Her work is represented by Jessica Watterson of the Sandra Dijkstra Literary Agency.
Raised in the shadow of the Blue Ridge Mountains,
Vicki L. Weavil
turned her early obsession with reading into a career as a librarian. After obtaining a B.A. in Theatre from the University of Virginia, she continued her education by receiving a Masters in Library Science and a M.A. in Liberal Studies. She is currently the Library Director for a performing and visual arts university.
Vicki is represented by Jennifer Mishler of Literary Counsel. Her debut novel, CROWN OF ICE – a dark YA retelling of H. C. Andersen's "The Snow Queen" -- will be published by Month9Books in December of 2014. An avid reader who appreciates good writing in all genres, Vicki has been known to read seven books in as many days. When not writing or reading, she likes to spend her time watching films, listening to music, gardening, or traveling.
Wendy Nikel
lives in Michigan where she enjoys writing speculative fiction, playing video games with her husband, and building epic Lego creations with her sons. She is represented by Natalie Lakosil of the Bradford Literary Agency, and you can read some of her short stories at
wendynikel.com
.
Ingrid Seymour is the author of Ignite The Shadows (Harper Voyager, February 2015). When she's not writing books, she spends her time working as a software engineer, cooking exotic recipes, hanging out with her family and working out. She writes young adult and new adult fiction in a variety of genres, including Sci-Fi, urban fantasy, romance, paranormal and horror.
Her favorite outings involve a trip to the library or bookstore where she immediately gravitates toward the YA section. She's an avid reader and fangirl of many amazing books. She is a dreamer and a fighter who believes perseverance and hard work can make dreams come true.
All the contestants: take the time to Tweet/comment on a blog of at least five of these judges, thanking them for what they're doing. Pick the by random or anything, just take the time. They have some of the hardest jobs in the contest!!
...(For those who don't remember, I asked "Why do we need diverse books?")
....
...
...
...
..
..
.
..
...
...
...
...
....
I think this boils down to the absolute root of why we need diverse books. It's the reason we crucially need diversity in literature - to see through the eyes of others. Almost all the entrants said something along the same lines, so it really came down to subjectivity. I loved Emmy's simple but true way of stating this fact. Many entries were disqualified because of the 25-word limit :(
And that is so, so, SO true.