Bloggers
Michelle4Laughs
,
Writer's Outworld
, and I are teaming up to bring you the first ever Query Kombat Tournament!!!!
AHHHH!!! Yes, it's okay to be super excited!!!!!!
Query Kombat will host 64 kombatants in a single-elimination, tournament style query-off.
There will be a total of six rounds in Query Kombat. First opponents will be grouped by target audience (ie. YA, NA, Adult, and MG) so those who write for the same age-group will be 'battling' each other. After that, a bracket-style grid will dictate future opponents.
If you secure a spot in the tournaments, your query and the first 250 words (to the end of a complete sentence) will be pitted against another query and first 250 words. Judges will read each match-up and vote 'Victory' on the best entry (this is subjective, so don't take losing too harshly :D). The entry with the most 'victories' will advance to the next round until one champion remains.
A growing list of agents (eight, as of now! I KNOW!) will browse the semifinal round to make requests on at least one of the final four queries. Details below.
BUT THERE IS MORE UP OUR SLEEVES. (And not just this cat.)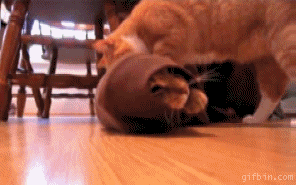 I do not own this, all rights to creator
If you make it into the third round, you will be paired with an agented writer who will act as a trainer to shine up your query and first 250 words. Edits are due back three days after pairings are announced.
We have eight FANTASTIC mentors ready to serve the sixteen writers who go into round three.
Before the start of the semifinals (round 5), agents will be invited to the blog to make requests and choose one query they think will become tournament champion. Agent(s) who guess correctly will receive a full or partial (their choice) of the selected manuscript one week before the other agents who requested material. To clarify, agents can make as MANY requests as they want, but can only bet on one query to win. One week after the contest closes, we will be posting the final eight queries and invite agents back to make more requests.
Yes! We have eight agents already involved!
Here are the tournament brackets
We (Mike) actually do own this! Huh. Nice to post a picture and not
have to be all "please don't sue me" under it. Feels weird. AHH. Please don't
sue me Mike! There.
The tournament is open only to unagented writers seeking representation. Your manuscript must be complete, polished, and ready to submit. Submissions for MG, YA, NA, and Adult works will be accepted. No picture books or non-fiction.
The submission window will open at 11 am EST on Monday, May 13th and close at 12 pm Friday, May 17th or when we receive 225 entries. You may submit entries for two manuscripts (in the same email) but we will only consider the second entry on the last day of the submission window (if we don't reach 225 entries). So put your favorite query first! Send in your
Kontestants will be revealed May 24th and the tournament will kick off on May 28th. Woo!!!
In order to enter the contest you MUST follow formatting guidelines, and submit during the contest window. All entries that follow these guidelines will be considered. In the event that we receive more than the available spots, the three hosts will be assigned a group of queries and pick the best of their group. We will also select a few alternates in case some of the entrants have to retract their queries.
Note: You can only retract your query before Round 3! If you get paired up with a mentor, you can no longer retract your query from the contest
Sixty-four queries will enter into the tournament.
Font: Times New Roman, 12pt font, single-spaced with spaces between each paragraph. No tabs!
Subject line of the Email: A short, unique nickname for your entry [colon] your genre (audience included). (ex. Magigeddon: YA Fantasy).
The nickname is so this feels more like March Madness with teams and all that :D For the nickname, make it as unique as possible so that there are no duplicates. Make it you. These will be the names used in the tournament brackets (or an abbreviated version if it's too long) so keep it PG-13 and try to have it relate to your story in some way.
In the body of the email (and send your emails to QueryKombat(at)yahoo(dot)com), must look just like this!:

Neither your Name nor your Email will be published in the posts. It's just for our ease :D
Name: SC Author
Email: QueryKombat(at)yahoo(dot)com
Title: QUERY KOMBAT
Word count: 90K
Genre: YA Fantasy
Query:
Blah Blah Blah Awesome Contest Blah Blah Blah Agents! Blah Blah Blah Mentors! Blah Blah Blah Queries and first 250 words!
Blah Blah Blah This will be the awesomest thing ever Blah Blah Blah.
(Only include the meat of your query. No bio, no "Dear ___", no personalization, and no, "My manuscript, QUERY KOMBAT, is a 90K YA Fantasy in the vein of ____" unless you believe the market comparison is truly incredibly important. For example, it is in this query (the winner of the "Become an Agent" contest))

First 250 words:
First 250 words. Don't include the chapter title. Feel free to go over a few words if your 250 ends in the middle of a sentence. It's not too much fun to stop in the middle of
Also, no indentations. Line breaks (spaces) to separate paragraphs.
All queries submitted are FINAL. We will not edit them in any way, shape, or form. Please read, reread, and rereread your submission before you hit send. Unless you make it into the third round, you will not have another opportunity to edit your query or first 250 words. You have several weeks to polish your work. Take advantage of it. Competition will be fierce. I mean, you are going up against 63 other amazing writers :D
Because the immense amount of work ahead of us, the tournament will be hosted on three separate blogs (Awesomely fantastic blogs that we would love for you to follow! Because that'd be awesome :D): Michelle4Laughs will host round 1 and 4.
SC Write (me!!) will host round 2 and 5.
Writer's Outworld will host round 3 and 6. Each blog will have links to all rounds so fear not. Stay with one blog, and you'll get plenty of guidance as to where to do :D You will not get lost.
Agents, judges, and trainers will be revealed soon. THAT'S GOING TO BE SO AWESOME!!!!! Really, we have awesome people lined up for you!!!!

A lot is going on in Twitter under the hashtag #QueryKombat so don't forget to look there! I am here on Twitter (@SC_Author)! We've been teasing a lot about this contest for the past week over Twitter :D
So, yeah. That's it!
WHO IS EXCITED?!?!?!?!?!
Ask any and all questions in the comments below!
I AM SO PUMPED!!!! But it's nighttime. So can't scream/laugh/cheer. Crud.